Do you also want to know that Meta has announced Paid Blue Badge for Instagram & Facebook Users? So you have come to the right blog, every user is eager to know how to get a blue tick on Instagram. However, Facebook and Instagram company Meta has launched a new paid subscription for verification badges, in which you can pay for your Blue Tick and get your account verified.
When Did Mark Zuckerberg Announce The Paid Blue Badge?
Meta CEO Mark Zuckerberg on Sunday (Feb 19) announced the launch of Meta Paid Verified, a service to authenticate any Instagram & Facebook account starting at $11.99 per month. Like Elon Musk, a user has to pay to get verified by Twitter, and this service has started. Many Twitter users have got their accounts verified by paying, so Meta has also announced Paid Verification Badge Subscription.
How Much To Pay For Verification?
Mark Zuckerberg said in his statement that the Paid Blue Badge would cost "$11.99 on the web and $14.99 per month on iOS or Android".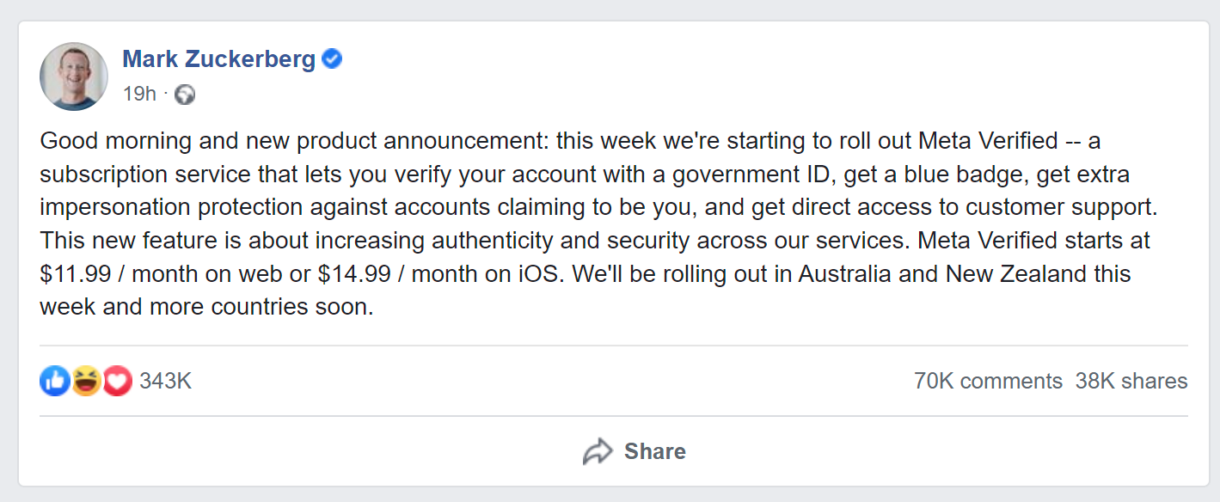 Meta CEO Mark Zuckerberg said in posts on Facebook that "this new feature is about increasing the authenticity and security of our services." And this service can be launched in the USA, and other countries, Australia and New Zealand. Meta Verified this week, so every Insta & Fb user can easily verify their account.
What Else Will I Have To Pay For The Paid Blue Badge?
According to the Meta company, the payer will receive a badge indicating that their account has been verified with a government ID after payment. And when they're fully verified, they'll have direct access to customer support and added protection against impersonation.
Meta has said that you must be above 18 years of age to get Paid Blue Badge on Facebook and Instagram, only then will you be able to get it by paying your official ID—one more thing to keep in mind is that this service is not yet available for businesses. After testing it properly, Meta may also make it available for businesses.
According to media reports, this service will work more for creators. Those looking to expand their presence across platforms will help them be more productive. Meta has taken this step because it is facing a global economic recession. Therefore, this service will help in increasing its new sources of revenue.
When will the Meta Paid Verified Subscription service be announced in India?
Many people must consider when Meta Paid Blue Badge will be released in India. There is no news or information about this yet that this service will be released in India.
Although its testing is ongoing right now, if CEO Mark Zuckerberg sees a good result from it, they will release it in India as soon as possible, so you don't have to overthink.
Final Words
In this blog post, we have shared all the information about Meta Announces Paid Blue Badge For Instagram & Facebook Users, and we hope you, too, are eager to get verified on Instagram. But to do all this, we must have many followers, so you do not need to worry about it.
We are also a social media services provider, in which you can quickly increase your Instagram and Facebook followers. For that, you have to take the Buy Instagram Followers and Buy Facebook followers service, after which you can get followers according to your need.
Verifying your Instagram and Facebook accounts will be no problem, so take these services from us today.
Tags:
how to get verified on ig
how to get verified on instagram
how to verify instagram account