Since Elon Musk bought Twitter, he has brought new updates and features. According to the information, Elon Musk removed the blue tick of verified accounts just a few days ago. Because he did not take a paid subscription to Blue Tick, Elon Musk had said earlier that you have to pay to get Blue Tick on Twitter Application. That's why Elon Musk removed the blue ticks of big celebrities and popular accounts. Because he had not paid in which, there were big celebrities like Cristiano Ronaldo, Amitabh bachchan, Salman Khan, Shahrukh Khan and Virat Kohli. From whose Twitter account the blue tick was removed?
Read More: Meta Announces Paid Blue Badge For Instagram & Facebook Users!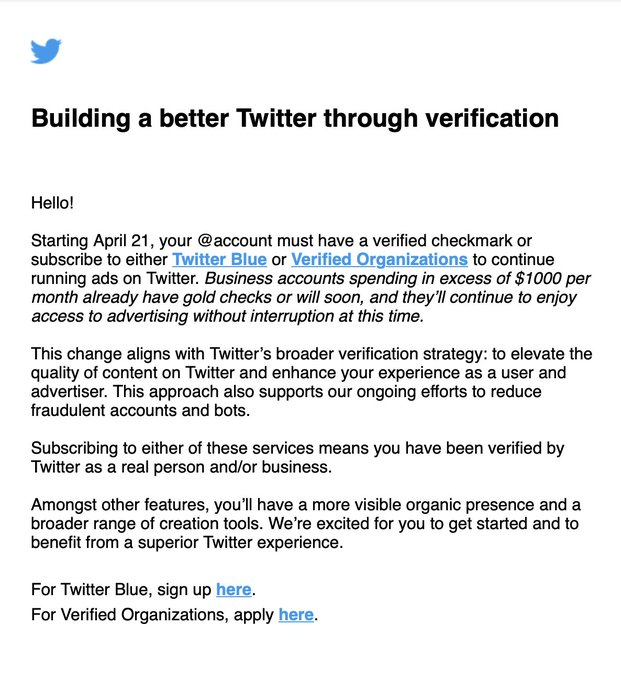 However, now everyone has paid Twitter for their blue ticks, allowing them to see them again on their account. But once again, Twitter is notifying all advertisers that they need to sign up for Twitter Blue or verified organizations to run ads on Twitter. If they don't choose either of these two things, Twitter Application won't allow them to run ads.
Therefore, Twitter Application has emailed all advertisers informing them about the change so they are properly aware of it.
This means that brands will have to pay Twitter $8 per month for the blue tick on the account or $1,000 per month for its verification, in addition to what brands already pay Twitter for offering organizations. They will be given checkmarks of gold.
Elon Musk is doing all this to boost Twitter's revenue, from which he earns money, and Twitter Application users are a bit surprised. Although Twitter-verified organizations will also get premium customer support, we must pay $1,000 per month or $12,000 annually to get these benefits.
Tags:
get Blue Tick on Twitter
Paid Blue Tick on Twitter
Pay for Verification