Do you also want to know about Snapchat Reaches Over 200 Million MAU In India? So you have come to the right place; here, you are provided with information about every social media platform. However, in India, people use social media according to their wishes. But India has strengthened its position as Snapchat's top market, reaching 200 million users. That's why we should consider it as a lesson so that we can take some advantage of Snapchat.
Read More: 7 Reasons Why Social Media Platforms Is Good For Teens?
This means that 27% of Snapchat's total user base is now in the Indian region. From this, we can guess how many people like Snapchat in India. However, Snapchat is being used less and more in different countries. Because everyone is interested in using the snap according to their wish, after which they can get the most out of it.
According to a study, Snapchat has 100 million daily active users in North America, less than that in India. And also, Europe has 93 million DAUs, so India is making up the rest of the usage.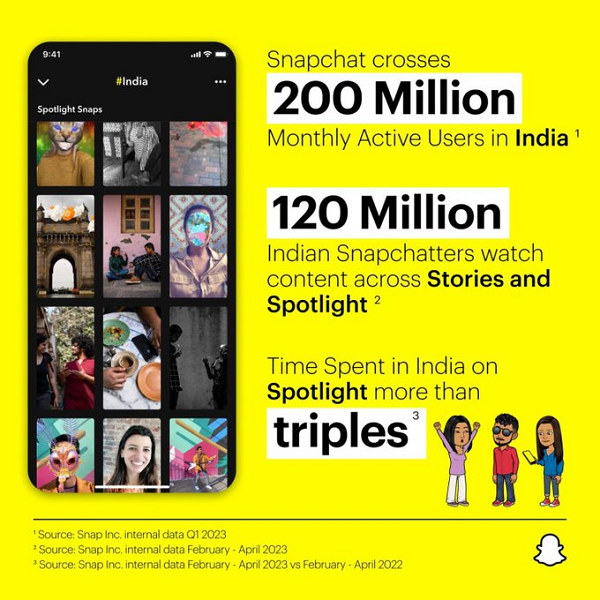 However, the daily and monthly usage figure is 383 million DAUs. According to the available data, Snapchat has many active users from other countries, so it can make itself more popular.
But now, India has the highest number of monthly active users of Snapchat.
Below is a look at some of the countries where Snapchat is used the most:
India has the highest number of 200 million Snapchat MAU.
There are 108 million Snapchat MAU in the United States.
Pakistan

has 26 million Snapchat MAU.

France

has 25 million Snapchat MAU.

The

United Kingdom

has 23 million Snapchat MAU.

Saudi Arabia has 21 million Snapchat MAU.
Germany has 18 million Snapchat MAU.
Mexico has 17 million Snapchat MAU.
Iraq has 16 million Snapchat MAU.
Egypt has 15 million Snapchat MAU.
Turkey also has 15 million Snapchat MAU.
Nigeria has 13 million Snapchat MAU.
Canada has 11 million Snapchat MAU.
And the lowest is in Colombia, where only 6 million people use Snapchat.
Although India is becoming the biggest segment, it is easy enough to focus on the rise of Snapchat in the Indian region. Therefore, in the future, Indian people can use Snapchat in large numbers, due to which its number can reach up to 300 million.
Final Words
If you have liked the information in our blog post, then definitely like it. And apart from this, you can bookmark our blog post to know the information and updates about other social media platforms so that you can know the news and information of any platform.
Apart from this, our company also provides you with Social Media Marketing Services, in which you can easily purchase Instagram Services, Facebook Services, and YouTube Services at a low price. And you can grow and boost your social media channels so that you get to see more benefits.
Tags:
social media
social media news