Social media marketing is a great strategy to promote any business and reach target customers. Nowadays, brands influence people, follow them, and even buy through social media. Whether small or big, it is the best social media marketing for business. You should use Facebook, Instagram, Twitter, and YouTube to promote your business! Social media is the most effective way to achieve remarkable business success. Increase awareness of your brands by highlighting them on social media and getting more leads.
This article will give a complete guide to social media marketing services. You will know what social media marketing is and its benefits—the best social media platforms for business and how to use them.
Read More: Instagram Par Blue Tick Kaise Lagaye
What Is Social Media Marketing?
Social media marketing is a digital marketing strategy that uses social media platforms to achieve advertising and branding goals. Marketing through social media is the most effective way. This includes reaching your target audience, exposing your business online, and generating more leads and sales. But you cannot promote your business just by creating a business profile; you need a developed strategy. You need to understand these things to reach your business goals.
So, first of all, you have to create your business profile and optimize it professionally.
You will have to make consistent posts. You can include photos, videos, stories, and live interactions in posts to represent your brand and attract relevant audiences.
Engagement is vital to making a business recognizable. You can connect with people by replying to comments using features like share tags and mentions.
Create a thriving community around your brand in social media marketing by fostering and engaging relationships with followers, customers, and influencers.
Additionally, using paid social media advertising costs effectively increases your brand exposure, effectively reaching precisely targeted audiences.
Social Media Marketing: Key Benefits
Marketing through social media has the following benefits, some of which we will discuss today. You should use social media for business to quickly achieve your brand goals. So before knowing the best social media platform for business, let us see some benefits of social marketing.
Builds Business Reputation: Through the social media marketing for business, you can humanize your company and get the opportunity to turn it into an active participant in your industry. Complete business profile posts encourage customers to connect and interact with you. It also allows your audience to become familiar with your brand and you and establish a relationship.
Driving Traffic To The Site: One of the most enormous benefits of marketing through social media is driving organic traffic to your site. You can redirect social media visitors to your site by linking to your site through blog posts, profile links, and advertising efforts.
Generating Leads And Reaching Customers: Facebook social media marketing helps you get conversions directly from customers. Facebook and Instagram allow you to create shops with features like profile call-to-action buttons and appointment booking capabilities.
Brand Awareness And Credibility: Using social media for business makes your brand recognizable and creates a solid visual identity. Increasing recognition increases your brand awareness, and people have a profound positive impact on your brand.
Social Media Promotion: Paid social media marketing opens up both direct and indirect avenues to connect with your audience. This is a quick process that brings leads to your brand quickly. The best social media platform for business is helpful in collecting feedback, facilitating discussion, and establishing direct relationships with individuals.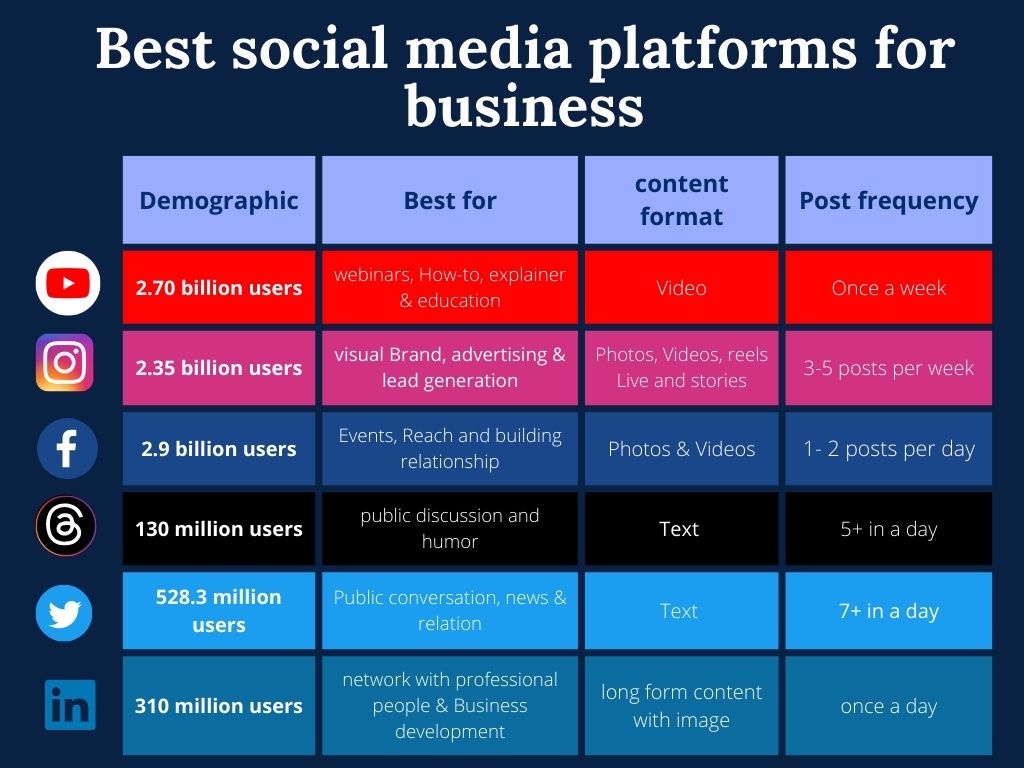 Conclusion
Using the social media marketing for business has benefits beyond improving site traffic and expanding your reach. If you want to improve social media marketing, you can buy Facebook Followers India. Additionally, using social media for business turns your business into a personality your audience can communicate with. If you want to grow your business fast, you can take social media services from indian followers wala.in.
Tags:
best social media for business
best social media platforms for business
facebook social media marketing
influencer marketing services
social media marketing services
social media platforms
top social media marketing companies