Do you want to get the correct information about globally accessible WhatsApp channels with updated features? So, you have done the right thing by choosing FollowerBar. It provides complete details on WhatsApp Channels June 2023 update, so you must read this blog post completely. Then, you can quickly run your own channel on WhatsApp.
Now, you can easily follow celebrities and accounts on WhatsApp. This is a new feature of WhatsApp in which you can easily follow any star and others whom we will know through WhatsApp channels from your account.
WhatsApp is the most popular platform for business communication, and it has served the purpose of communicating with most people. Be it your family or colleagues, and it is trying to evolve with the latest updates to meet the needs of people.
You should know that the latest update of WhatsApp is introducing a new feature that will let you follow the updates of the people and organizations inside the platform that are more important to you. It's being called a WhatsApp channel update, which will deliver updates in a new tab, separate from your chats.
WhatsApp Channels has been launched globally and is available in over 150 countries, including India. Like you might find accounts and channels you're interested in following on other platforms, WhatsApp automatically assigns you channels based on country.
Read More: How To Become Verified On Twitter
Points
More than 150 countries now have access to WhatsApp Channels.

Some new features are improved directory, emoji reactions, and admin editing options.

An official channel for direct communication about product updates was also launched by WhatsApp.
However, some famous celebs, sports teams, artists, thinkers and organizations from India and worldwide are already present on WhatsApp, which you can easily follow. For example, you can follow the Indian Cricket Team, Katrina Kaif, Diljit Dosanjh, Akshay Kumar, and Vijay Deverakonda can now follow many other people through WhatsApp.
And most importantly, you can also follow Mark Zuckerberg on WhatsApp, who has launched his own WhatsApp channel, where he shares updates on all the products of Facebook and WhatsApp.
WhatsApp now emphasizes privacy and says that the personal information of admins and followers will remain safe. This has been claimed in full.
The following updates to WhatsApp will be made available as part of the global rollout to improve user experience.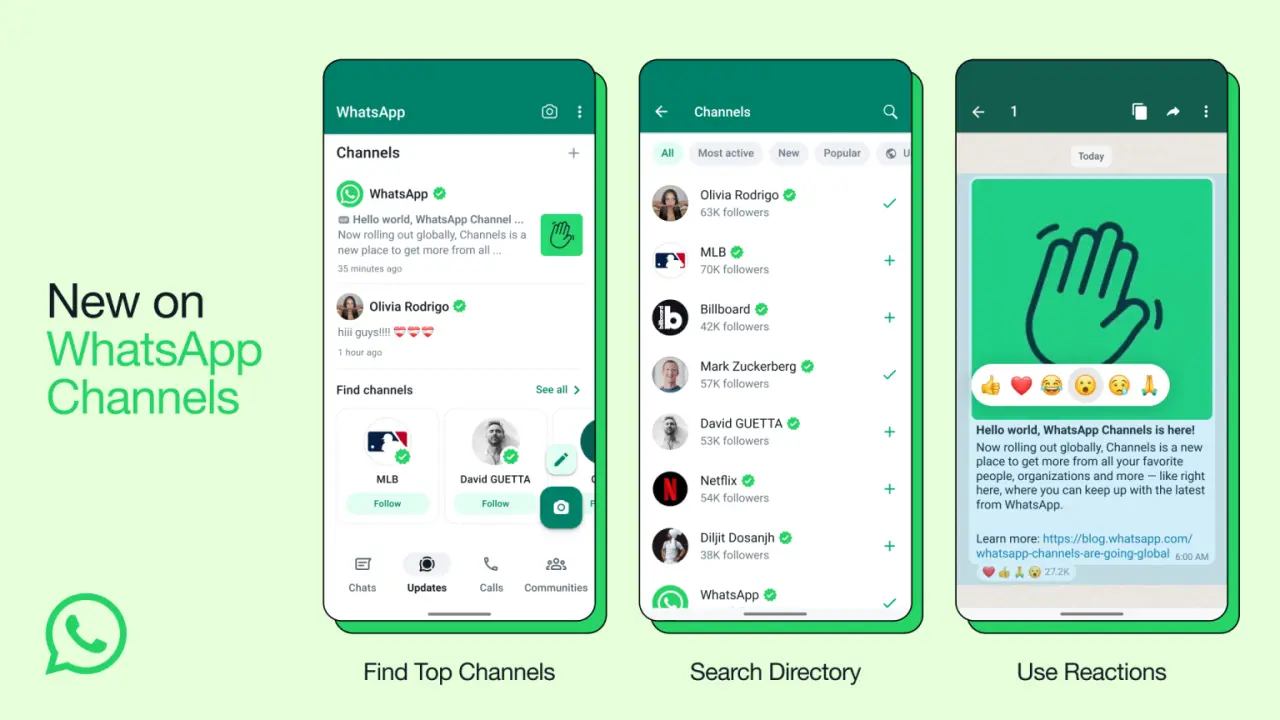 A location-based advanced directory that enables users to find channels. Additionally, it groups channels by popularity (measured by number of followers), most activity, and new engagement.

Reactions are provided so users can react to updates using emojis. The total number of responses will be visible, but individual responses will remain anonymous.

Channel updates can be edited for up to 30 days before being automatically deleted from WhatsApp servers.

To make an update more accessible to chats or groups, a link to the original channel will be included. This will allow easy access to more information.
This update and feature will give global expansion organizations and thought leaders new ways to connect with their audiences on a more personal platform.
Read More: YouTube Par Like Kaise Badhaye
Conclusion
This new update and feature of WhatsApp can be more beneficial for your business, so we should use it. However, to increase Instagram followers, you can use the buy instagram followers india service in your account, after which you are quickly successful in increasing followersindia. And you get to see more of its benefits in your profile.
Tags:
new feature on whatsapp channels
new update on whatsapp
whatsapp channels with updated features